Directions to the Department of Special Education
The Department of Special Education is located at Frescati Hagväg 10.
By bus
There are several busses which stop at the university. If you are coming from the Stockholm city center, it is easiest to take bus 50 from Odenplan. The closest bus stops are called Universitetet södra or Albano.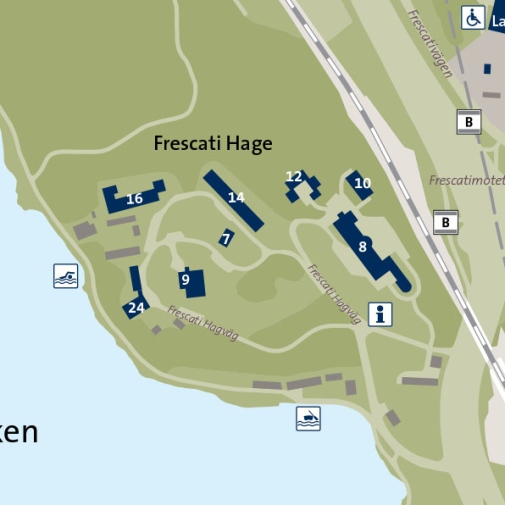 By subway
From Stockholm central station, take the "red line" of the subway towards Mörby Centrum. Get off the train at the stop called Universitetet. Upon exiting the subway station, take a left, and then take bus 50 to Universitetet södra.
By the Roslagsbana train
The train station is called Universitetet. Walk up the stairs and then take an immediate right which leads to the subway and bus station. From the bus station, take the bus 50 to Universitetet södra.
By car/taxi
Frescati Hagväg 10 is located in the area Frescati Hage near by the lake Brunnsviken. Outside the building there are several parking lots and a handicapped parking spot.
By bicycle
There are bicycle paths nearly the entire way from the Stockholm city center and surrounding areas. Please visit the Stockholm city website for more information cykelreseplaneraren
______________________________________________________
Mobile app helps you to navigate around the campus
The mobile app "Stockholm University Guide" enables you to use your phone to navigate around the campus and find services available to students.
The app is available from the App Store and Google Play, and can be found by searching for "Stockholm University Guide". The app has a map function that makes it easier for students to find departments, buildings, lecture and exam halls, accessibility-adapted toilet facilities, and more within the student areas. The app also provides links to services related to Admissions, Graduation, Student Support, and other student-related information. Some of this information is also accessible via touch screens in connection to Infocenter in Studenthuset.