Directions to the Department of Special Education
The Department of Special Education is located at Frescati Hagväg 10 and 14.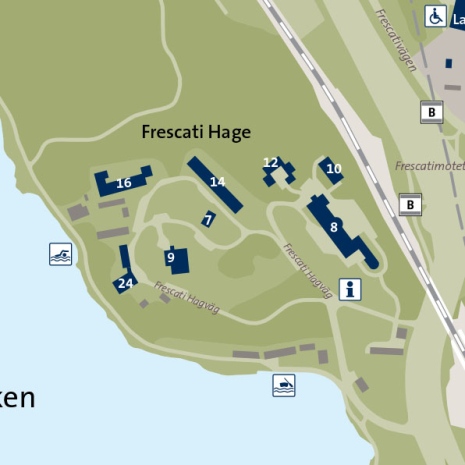 By bus
There are several busses which stop at the university. If you are coming from the Stockholm city center, it is easiest to take bus 50 from Odenplan. The closest bus stops are called Universitetet södra or Albano.
By subway
From Stockholm central station, take the "red line" of the subway towards Mörby Centrum. Get off the train at the stop called Universitetet. Upon exiting the subway station, take a left, and then take bus 50 to Universitetet södra.
By the Roslagsbana train
The train station is called Universitetet. Walk up the stairs and then take an immediate right which leads to the subway and bus station. From the bus station, take the bus 50 to Universitetet södra.
By car/taxi
Frescati Hagväg 10 is located in the area Frescati Hage near by the lake Brunnsviken. Outside the building there are several parking lots and a handicapped parking spot.
By bicycle
There are bicycle paths nearly the entire way from the Stockholm city center and surrounding areas.